Term Ahead - 5 Feb 2021
From the Senior Leadership Team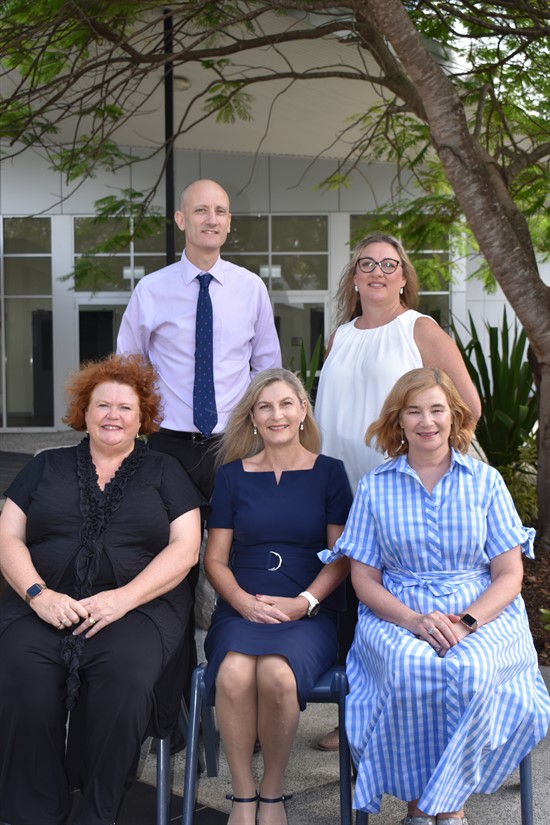 As we commence the 2021 school year, we extend a very warm welcome to all of our new and returning families and trust you have had a relaxing and enjoyable summer vacation. As always, we had the pleasure of meeting all of our Year 7 and 10 students who appear to be embracing the QASMT culture and are quickly learning what it is like to be an IB learner.

It is our hope that 2021 is a year of milestones for all in the QASMT community and we are thrilled to announce a new milestone for QASMT, as we welcome a full cohort of students across Years 7 to 12. The team at QASMT has worked hard to ensure this goal was achieved in accordance with the Strategic Direction of the School, and we are so proud of our achievement.
Our Senior Leadership Team is grateful and elated to share in the educational journey with you via events and special occasions. We look forward to building positive and supportive relationships with all of you in the upcoming year. Starting a new school year is a time of optimism and excitement, combined with nervous anticipation. 2021 has begun with a lingering sense of despondency about the pandemic of last year, and how it will impact us.
When the future is uncertain, hope can seem lost.
2020 was supposed to be a time of clear vision. Instead, we were presented with more collective confusion and cloudiness than at any other year. This was compounded by the massive disruption we all had to encounter, plus a plethora of new words, phrases and meanings that led to all manner of discombobulation. Almost overnight, we all became used to talking about social distancing, quarantine, self-isolating, lockdowns, bubbles, being asymptomatic, flattening the curve, elbow-bumping and contact tracing. All these expressions were foreign to us in 2019. We also became creative and added the new prefix 'iso' to almost anything we could, from iso-baking, iso-kilos, iso-burnout and iso-haircut.
In the education sphere, new words like face-to-face learning, at-home learning, register-your-attendance, personal-protective equipment and staggered-start, took on new meaning. Within our school environment, teachers and students alike tried as best as we could to remove the feeling of remoteness from remote-learning.
It certainly was an incredible year and involved a number of very big adjustments. But amongst all this confusion and at times angst, we are convinced there is always a reason for hope. Let's take the lessons learnt from the past year and combine them with the belief of returning to a hybrid normalcy that has the power to thrust us into a promising future.
Below are five actionable ideas that may help our students start and sustain a positive school year.
1. Start with a Posture of Possibility
The media is heavily incentivised to make you think the world is falling apart. Yes, there are complexities and difficulties we need to face, however, human potential has always found a way to thrive, regardless of circumstance. We have accomplished this by having a posture of possibility. We ask our community to start the school year with a posture of possibility and watch your infectiousness inspire those around you.
2. Start with Ambition
Ambition is a powerful force. Look at the greats; Serena Williams, Lebron James, Beyoncé or Malala Yousafzai. There was something in them that drove them to success. Watch them sing, play ball or fight for a cause. Their dedication and diligence are like a firestorm. This fire inside doesn't light itself. Something on the inside has to spark. A vision, a goal, a sense of purpose or calling, has to emanate from within. Don't hear the call and hide; heed it and be heroic. We ask our students not to go into the school year coasting or chilling. Go into this year full of ambition to do something important and meaningful with your life. Our Principal is a huge fan of Nelson Mandela. She loves his philosophy of "I never lose, I either win or I learn." Make that your mantra for 2021 and breath life into your ambitions.
3. Start with an Intention to Fail
This seems like a funny way to start the new year, however, failure actually ensures learning. "What would you do, even if you knew your would fail?" At our recent commencement assembly, our Principal inspired our students to embrace failure as the only real pathway to realise what you are capable of. Here is a breath-taking transcendent idea and one worth pondering, "The bad news is you're falling through the air, nothing to hang on to, no parachute. The good news is there's no ground." – Chögyam Trungpa
4. Start to Frame your World in a way that is helpful
Where you sit determines what you see. In a large auditorium, each seat will give you a unique view of the stage. If both of us are sitting in the auditorium in completely different locations, you will see things I can't see, but it doesn't mean that what you see isn't real. Perspective is a mind-altering tool to shift our thinking. Our Princpal recently spoke to our students about obstacles and misfortunes. She suggested that if going over the trauma in your mind helps, then do that. If it doesn't, move on. She also told our students that allowing the past to steal our future is not how we want to spend 2021. If you don't let your past die, it won't let you live.
5. Start by Being Present
When all you know is 'busy', you start to feel like you need to resist taking time out to rest. The most difficult thing for most of us is to be present. Our smart devices distract us and take us away from what is close. We become so busy running/scrolling from one thing to another that we lose sight of the moment we are in. This moment, right here, is the only true moment. We cannot go back in the past, nor take a train to our future. This, right here, is the most important moment.
A Growth Mindset
At our commencement assembly, Principal Kayrooz spoke to our students about having a growth mindset so that they can thrive. Students with a 'growth mindset' – those who believe they can succeed if they work hard – performed 9 to 17 percent better on PISA (the OECD's Programme for International Student Assessment) than those with a 'fixed mindset' – those who believe their capabilities are static.
In this first edition of the newsletter, we would like to focus on how parents can help their child with developing a growth mindset so that they can thrive. Research shows that parents can have a powerful impact on their child's mindset. The language you use and the actions you take show your children about what you expect. Giving process praise, talking about the brain, accepting mistakes as learning opportunities, and understanding the role of emotions in learning, are all practices you can begin today.
The way we praise our children can have a profound impact on their mindset. Research on praise and mindsets shows that when we praise children for being smart, it promotes a fixed mindset. It sends a message that their accomplishments are trait-based, and tied to something innate. In contrast, praising kids for working hard promotes a growth mindset. It sends a message that the child's effort is what led them to success. Please find below some tips when talking with your child that promote a 'growth mindset'.

SAY THIS, NOT THAT!
| | |
| --- | --- |
| Say This | Not That |
| "I can see you worked so hard on this!" | "You are so smart!" |
| "It seems like it's time to try a new strategy" | "It's okay. Maybe you're just not cut out for this!" |
| "I like watching you do that" | "You're a natural at that!" |
| "It looks like that was too easy for you. Let's find you something challenging so your brain can grow." | "That's right! You did that so quickly and easily; great job!" |
| "That's not right. You don't understand this yet. What strategies can you try to understand it better?" | "That's not right. Are you paying attention in class? It seems like you're not even trying." |
| "That was really hard. Your effort has paid off! Next time you'll be ready for this kind of challenge!" | "That was really hard. I'm so glad it's over and you don't have to do that again." |
| "You've worked so hard to become a good writer. You should challenge yourself with an advanced class, and learn something you don't know how to do yet." | "You have a real talent for writing. You should take a creative writing class because you're so good at it." |
Positive Education
Our school is a Positive Education school. Positive Education brings together the Science of Positive Psychology with best practice, teaching to encourage and support individuals, schools and communities to flourish. Flourishing refers to a combination of 'feeling good and doing well'. Positive Education focuses on specific skills that assist students to strengthen their relationships, build positive emotions, enhance personal resilience, promote mindfulness and encourage a healthy lifestyle.
If we understand the Positive Psychology behind flourishing ourselves, we can begin to assist others to improve their own wellbeing. Parents are at the foreground of this, as although teens are seeking independence, the informed guidance and support of parents is an important ingredient for academic success.
11 WAYS YOU CAN HELP YOUR CHILD ON THEIR TRACK TO SUCCESS
Attend Parent Information Evenings and Parent-Teacher Interviews
Teens succeed better in school when parents openly support their academic efforts. Attending these events is a great way to get to know your child's teachers and understand the goals, priorities, and expectations of the school.
Visit the School and its Website
Understanding the school and its policies and procedures can help you connect with your child when you talk about the school day with them. Knowing their teachers, facilities, calendar for assessment and events, and other resources, means students and parents can feel like they understand one another, which is incredibly important when school makes up much of their daily lives.
Support Home Learning Expectations
As students progress through high school, homework and assessment becomes more rigorous and achievement can become more significant for their future pathway goals. Ensuring your child has a quiet, well-lit, distraction-free place to study can assist them in their organisation and productivity, ultimately reducing stress over the completion of their homework on time. A distraction-free environment means no phone, TV, or websites other than those related to their tasks. Checking in on your child every now and then, supporting them meeting their targets, encouraging them to ask for help, if they need it, and making sure they maintain a balance between study, co-curricular, and their own wellbeing, are some ways you can help them.
Send Your Child to School Ready to Learn
A nutritious breakfast fuels your child and prepares them for the day. In general, students who eat breakfast have more energy and achieve better in school. Providing breakfast foods that are rich in whole grains, fibre, proteins and low in sugar, can help boost your child's attention span, concentration, and memory. If running late, on-the-go options like fruit, nuts or yoghurt are nutritious and full of good energy. It is a good idea to also send a healthy snack to eat between classes.
Sleep
Students also need the right amount of sleep in order to be alert and ready to learn all day. Eight to nine hours of sleep are recommended, however, this is often not achieved while students manage classes, home learning, co-curricular activities, and friendships. Lack of sleep is linked to decreased attentiveness, decreased short-term memory, inconsistent performance, and delayed response time.
Instill Organisational Skills
Learning and mastering the skill of organisation, staying focussed, and seeing work through to the end will help students in just about everything they do. Students who develop organisational skills during school, will be better prepared for future study and their careers. Parents and caregivers can help their children with organisation by creating a calendar, making to-do lists, and keeping assessment dates and tasks clearly outlined in binders, notebooks or folders.
Offer Help with Study
Planning ahead is vital to helping your child juggle assignments and assessment across multiple subjects. Breaking down tasks into smaller chunks and sticking to the study calendar can help keep your child focussed and productive. If a student has found a study schedule that stops them from experiencing high stress and can complete activities on time, then they may not need assistance here. However, there may be times when they need your help.
Know the Behaviour Policies
The school rules cover the expectations of students, including the consequences when these are not met, including: dress code, behaviour, use of electronic devices, acceptable language, and bullying. Knowing what behaviour is expected and what is not accepted, and showing alignment between school and home, can assist students in viewing both environments as safe, caring, supportive places that work together to help them succeed.
Get Involved
Some students are happy to see their parents involved with their school, while others can find it embarrassing. It is always important to first know the views of your child, however, if they are in support of your involvement, joining communities at the school can be a great way of showing how interested you are in your child's education. Joining the P&C is a great way at SMT to become involved and support your student through our school community.
Take Attendance Seriously
Students should take a sick day if they ever have a fever, are nauseated, vomiting, or other significant illnesses. Otherwise, it is important that students arrive at school on time every day. This is so important as although students can catch up on work, the focussed, teacher-led environment of learning is lost, and catching up on class work, projects, tests and homework can become stressful and interfere with their future learning. If you child resists attending school, it is important to talk with them to work out how to best make them feel comfortable going to school. SMT has two Guidance Officers that students can see about anxiety, stress, or other problems or worries they are having. If your child is embarrassed telling you their worries, this is a good person to refer them to.
Make Time to Talk about School
Because students spend so much of the day outside of the home – at school, co-curricular activities, jobs, studying, or with peers – staying connected can be challenging for parents and caregivers. Each part of a student's life is central to their wellbeing, and parents and caregivers are anchors for providing love, guidance and support. Making efforts to talk with your child every day is important to maintain your connection and let them know that what goes on in school is important to you. Communication is a two-way street and listening to each other openly and responding to each other in a supporting way can improve the relationship from both sides.
Student Leadership
Congratulations to all of our students who are taking on a leadership role this year and for accepting this responsibility with real enthusiasm. We look forward to the differences you will make in such an important role. You are role models for all of our students and your guidance is beneficial to fortifying our QASMT community.

After an extensive review of our student leadership program, we are proud to present our new leadership structure below. As you will see, there are numerous additional roles that speak to who we are and who we espouse to be.
QASMT has Grown
Demand for places at QASMT continues to increase. Our enrolment is currently at 1255 students, the largest QASMT has ever been, with further demand for placement in 2022. Our increase in student numbers necessitates an increase in teaching staff and we would like to formally introduce and welcome all of our new teachers.
| | |
| --- | --- |
| SURNAME, Name | Faculty |
| APPELHOF, Arnold | Language Acquisition |
| BAILEY, Jack | Sciences |
| BAUMGARTNER, Rebekkah | Technology & Arts |
| BAY, Tarne | Individuals & Societies |
| BERMINGHAM, Vanessa | Sciences |
| COLLEY, Jennifer | Sciences |
| COSTA GOMEZ, Cecilia | Sciences & Language Acquistion |
| FREDERICKSEN, Lyle | Individuals & Societies |
| HENSLEY, Sara | Sciences |
| ISLES, David | Mathematics |
| JOHNSON, Renee | Technology & Arts |
| LIEBCHEN, Kerstin | Language Acquisition |
| LISEC, Jacinta | Technology & Arts |
| LUNN, Georgina | Mathematics |
| MAGEROS, Chantel | Guidance Officer |
| MUIL, Jane | Language Acquisition |
| O'NEILL, Rebecca | Language & Literature |
| PARKER, Michael | Sciences |
| SCARROTT, Nicola | Language & Literature |
| SCUTTER, Brian | Individuals & Societies |
| VENZ, Mark | Technology & Arts |
| WALLACE, Stacy | House Dean Da Vinci |
| ROSE, Jamee-Grace | Sciences |
| FERGUSON, Joshua | QVSA |
| ONG, Kim | QVSA |
| COHEN, Mark | Canteen Supervisor |
| JUDGE, Danica | Teacher Aide (Student Support) |
| PACE, Yvonne | Canteen Assistant |
| SLATER, Luke | Schools Officers |
Student Achievements
As always, we are incredibly proud of all of our Year 12 graduates in their achievements last year. Their commitment to the IB program and QASMT ensures positive outcomes that only herald the success of all students. The support of our staff network creates a healthy learning environment for our students and our teacher accessibility provides for students to achieve their personal best.
Playing a significant role in individual student guidance and success are our House Deans. Last year, our House Deans provided a central role in tracking, monitoring and coaching our students. Our Guidance Officers also worked with our students, ensuring that they were awarded their preferred QTAC preferences.
2020 marked a significant achievement for our students, and for the Academy, and we congratulate all of them for the way in which they navigated a challenging year. It was also one of our best years ever for overall results, with 90% of students exceeding the world average Diploma score.
CORE PRIORITIES
At QASMT, our continuous improvement journey is important in ensuring all students reach their potential. Our core priorities are central to this and reflect our success. Our 2021 core priorities are:
Engage Learners
To nurture academic excellence, ensuring every student is able to pursue a university pathway of choice.
Empower Teachers
To build capacity of all staff to provide quality instruction and ensure effective delivery of the Explicit Improvement Agenda.
Ensure Success
To foster global citizenship through our positive culture, authentic partnerships and shared purpose and values.
Kath Kayrooz – Principal, Kerry Bullock – Deputy Principal, Tanya Haggarty – Deputy Principal,
Russell Hams - Director of School Operations, Jane Manwaring – Director of School Culture
From the Director of Senior Years
Welcome senior students and parents to Term 1 2021. I hope you have all had a very restful break and are looking forward to an exciting year!
Year 12
Year 12 students have a busy term in store. The Extended Essays are well underway, subjects are teaching new and challenging content, and there are a number of IAs due in the coming weeks. It is essential for students to consider how to balance their time between learning new content, revision, IA completion and the inner core requirements of the IB Diploma Program, by setting goals and planning their study. Subject teachers and House Deans are here to help students through this year, so we encourage students to meet with them if needing support. The IB Assessment and Guidance Handbook (2021 Cohort) was redistributed by email to all Year 12 students in the first week of term and contains comprehensive information on all IB matters, including a list of all the IB assessment dates for 2021. I would recommend that you familiarise yourselves with all parts of this document.
Year 11
It is an exciting start to the year for our Year 11 students, as they will be commencing the IB Diploma Program. The Year 10 Diploma Preparation Program has provided students with all the skills and foundation knowledge that they need to be successful over the next two years. During the Diploma Program, students will have the opportunity to build on their strengths and develop a growth mindset through new learning and experiences in subjects, Extended Essay, Theory of Knowledge, and Creativity, Activity and Service (CAS). I would encourage all students to be principled and open-minded in their approach to study and take advantage of all the opportunities available.
Year 10
I would like to wish a very warm welcome to our new Year 10 students. This year is all about setting them up for success. During Term 1, we ask that they take time to familiarise themselves with the processes and culture of the school, build new relationships and think about the goals that they would like to achieve in their time at the Academy. The Year 10 camp in Week 3 of this term will give them an excellent opportunity to meet new people and build strong connections that will give students support through their time at the Academy.
Tips for Success and Being an IB Learner
Re-establish a study routine: After a well-deserved holiday, it is important to make a deliberate effort to reset your study routine. Each week you should aim to develop your knowledge by completing a variety of activities for each subject, such as reviewing the class work, creating summary and revision resources, revising previous content and completing any assignment work. Your study experience will be enhanced by ensuring your study space is clean, well-resourced and free from distractions.
Keep chipping away at CAS: Year 11 and 12, remember to check in and update your CAS profile regularly on ManageBac, so make sure that you stay on track and balanced.
Stay informed: Check your emails on a daily basis and action accordingly. I will be communicating with you regularly through email about assessment matters, any IB updates and VET courses for Year 10 students.
Maintain academic integrity: QASMT is a collaborative community of learners that take a principled approach to academic integrity. Ensure all assignment work is well referenced from valid and reliable sources.
Access support: Engage your inquiring mind and take advantage of all the support that is offered to you at QASMT. Contact your teachers early if you would like help with class work or assessment items, take advantage of drafting opportunities both with your teacher and peers, and use the feedback you are provided.
I am looking forward to supporting students with their senior studies and IB journey. If you have any questions, please contact me via rskar2@eq.edu.au.
I wish you all a productive and successful term.
Rebecca Skarshewski, Director of Senior Years
Study Support Tutorial Program for Year 10 and 11
Study Support is a tutorial program offered to students in Year 10 and 11. It is part of QASMT's Learning Success tutorial program and is an affordable and convenient initiative to support students academically. It is a program that suits all students, as it aims to consolidate knowledge in core subject areas.
Study Support tutorials are small in size and take place after school (at school). Each session is 90 minutes long. The tutors are former high achieving QASMT alumni who are overseen by Heads of Department.
We are currently taking enrolments for Semester 1 for SMT students in Year 10 and 11 for Maths, English (Year 10 only), Biology, Physics and Chemistry. We are willing to provide tutorials in other subjects based on interest levels. You can enrol for the term, or for the whole semester. Students have the option to study up to four subjects per week.
Cost for Study Support Tutorials
1 or 2 subjects per week $330 for the term, or $440 for the semester. Or 3 or 4 subjects per week for $660 for the term, or $880 for the semester.
An email with the link to enrol will be sent out shortly.
In Term 1 2021, Study Support tutorials will start in Week 4 and will run to Week 9. In Term 2, tutorials will resume in Week 2 and run until Week 9.
For more details, please contact me via study_support@qasmt.eq.edu.au.
Kind regards
Sigrid Parker, Learning Success Project Officer
From the Director of Middle Years
Our Middle Years Program at QASMT is now complete, with a full cohort of students across Years 7 to 9! It is a vibrant sea of red jackets across the landscape of the school!
STEM Futures Community Project (Year 9)
This year our Year 9 students will complete the STEM Futures Community Project; providing our Year 9 students with the opportunity to engage in practical explorations through a cycle of inquiry, action and reflection. This is a significant piece of work that will be completed over an extended period of time. Most importantly, as students become involved in the self-initiated and self-directed learning process, they will find it easier to construct in-depth knowledge on their topic, and develop an understanding of themselves as learners.
Students will work collaboratively in groups of three, under the supervision of a teacher project supervisor. A 30 minute class has been timetabled on a Wednesday to provide a regular time for students to meet with both their project supervisor and group members. This is a self-directed project and our Year 9 students will be in complete charge of all aspects of their learning. An exciting chance for our students to pursue a passion and to extend themselves fully!
The aims of the project are to encourage and enable our Year 9 students to:
participate in a sustained, self-directed inquiry within a global context;
generate creative new insights and develop deeper understandings through in-depth investigation;
demonstrate the skills, attitudes and knowledge required to complete a project over an extended period of time;
communicate effectively in a variety of situations;
demonstrate responsible action through, or as a result of, learning;
appreciate the process of learning and take pride in their accomplishments.
The project will culminate in a STEM Futures Student-Led Exhibition to showcase our student work during National Science Week. Our school community will be invited to view all students' project outcomes.
I encourage all Year 9 parents to attend our Year 9 Parent Information Evening scheduled for Wednesday 17 February (Week 4) to find out further information specific to this project.
School Diaries
All our middle years students have been provided with a copy of our QASMT 2021 School Diary. The diary is year level specific and supports our Positive Education Program. It also contains valuable information on our school uniform expectations, helpful hints for what to do in typical school situations, our SMT protocols for positive behaviour, a map of the school, and term and weekly planners; all with a positive education focus. If your student has not received a copy, we are waiting on an order of new diaries and will distribute them once received.
NAPLAN - Date Claimer for Year 7 and 9
The National Assessment Program – Literacy and Numeracy (NAPLAN) is an annual assessment for students in Years 3, 5, 7 and 9 and tests skills in Literacy and Numeracy that are developed over time through the school curriculum. NAPLAN is made up of tests in the four areas of reading, writing, language conventions (spelling, grammar and punctuation) and numeracy. In 2021, Year 7 and 9 students at QASMT will complete the test online. The test window is between Tuesday 11 May and Friday 21 May. All students in Years 7 and 9 are required to attend school during this period.
Welcome Year 7!
It is with absolute delight that we welcomed our newest cohort of Year 7 students to our SMT community. It has been wonderful to see their high levels of energy, enthusiasm and anticipation for learning, as well as the new connections and friendships developing between students. I am particularly grateful to our Year 8 and 9 students who have supported and assisted our new students as they navigate their new school environment.
Special thanks to our House Deans for their leadership in the delivery of the Year 7 Orientation Program. Primarily, it has been a week of learning new routines and procedures, finding where things are, developing strategies to support effective work habits and learning about the International Baccalaureate Middle Years Program. Students have also reviewed the school's high-expectations and standards for student behaviour, the wearing of school uniforms, student attendance, homework, the use of technology, and academic integrity. Policy documents on these topics have been previously forwarded to parents and we recommend that you read them to ensure a consistent message is delivered to students. They are also available on the school website.
Preparing to be Organised
Term 1 promises to be a time of great change for both our incoming and continuing students as they transition back from holidays. Parents can support their children through this settling-in phase by ensuring the establishment of daily and weekly routines.
Formalising routines into a timetable will help students to plan their days and to remember what they need to do each day. Remember, the school diary is a most valuable tool, and it is essential that students keep it close, and bring it to and from school every day. This will give students an opportunity to not only see what activities are coming up but to also update their diary daily. Routinely checking the diary each morning and night will support students to be well prepared for learning.
A weekly timetable should also include study times, home learning, exercise, extra-curricular activities, and family commitments and occasions. Remember, creating a healthy school–life balance is important for optimum academic functioning. I encourage you to focus on minimising screen time, the importance of sleep, diet and exercise.
It promises to be an exciting year ahead; one of new experiences, personal growth and great adventures in thinking! We are happy to have you all aboard!
Sandra Davey, Director of Middle Years
From the Department of Language and Literature
A warm welcome to our returning and new families at QASMT.
It was fantastic to see the enthusiasm and curiosity of our new students as they arrived at QASMT for the first time. Starting my second year at QASMT, I am so privileged and excited to be working with, and learning from, such an inspiring and inquisitive group of students and staff alike.
In our faculty, there are a number of exciting units of work and important curriculum events occurring this term. Our middle year students, for example, will be investigating autobiographical texts, observational documentaries and Australian poetry. Our senior years students will be examining poetic and persuasive texts, short stories and plays. It is important that students have the required physical texts from the book list and come prepared to every lesson.
Over the break, many staff and students found some time to indulge in a little 'R and R' – Reading and Relaxing. Some of our recent teacher reads are featured here. Look out for our student reads at the end of the term.
What are our teachers reading?

Caitlin Quinn

Maus by Art Spiegelman

Nicola Scarrott

We Should All be Feminists by Chimamanda Adichie

Benjamin Niland-Rowe

A Promised Land by Barrack Obama

Zachary Lurje

Dictionary of Lost Words by Pip Williams

Brook Hawkins

Boy Swallows Universe by Trent Dalton

Susan Wisowaty

Tragedy by Terry Eagleton

Fiona Curran

Honeybee by Craig Silvey

Elaine Wentworth

Blind Fury by Lynda La Plante

Rebecca Jones

Shuggie Bain by Douglas Stuart

Rebecca O'Neill

Scythe by Neal Shusterman

Alexandra Moyse

A Wild Sheep Chase by Haruki Murakami
Year 7 to 9 Wider Reading
For parents and caregivers, I want to draw your attention to our home learning policy which states: "Students in Years 7-9 are expected to read books of their choice for a minimum of 20 minutes each night as part of their home learning time." (p.4)
Why you may ask? Regular exposure to text, language, style and ideas lays the foundation for life-long learning and success in English Language and Literature and other subject areas. For some students it might be a literary novel, for others it might be a scientific magazine, and for others, a biography. We support wider reading in Years 7 to 9 with dedicated class time and activities each fortnight, including access to additional texts. Please join with teachers at QASMT and promote a love of reading at home.
Year 12 Language and Literature
At the end of last year, I notified students of the option to complete a new Individual Oral (IO) given the changes to the November exam session in 2021. We have recommended a select number of students, mainly in SL, who would benefit from completing a new IO. Teachers will be conferencing with students in the first two weeks of term to help them make an informed choice.
More importantly, however, is the opportunity for greater success this year. With the removal of Paper 2, students can now spend more time on Paper 1 skills, the HL Essay and reading of non-literary texts. I stress how important regular and wider reading is for success in Language and Literature, particularly non-literary texts such as magazines, articles, blogs, podcasts, transcripts, editorials etc., as it equips students for success in Paper 1 where students will encounter unseen non-literary texts.
Support and Extension in Language and Literature
Students may require support outside the class to develop their skills, understandings and approaches in English Language and Literature. All teachers in our faculty offer students support outside the classroom in the form of conferencing and modelling located in lower J Block. A student simply needs to make an appointment with their teacher.
For revision and further learning students should explore additional materials online, namely:
Language Perfect – great for spelling, punctuation, grammar, text types, reading strategies and contextual readings (Years 7 to 12);
InThinking – analysis skill practice, critical reading activities, assessment information, exemplars (Years 11 and 12);
Resources on student Depot – Years 7 to 12.
QASMT students have access to a vast range of materials. I encourage all students to take advantage of these as independent learners and inquirers.
Debating
Term 1 is full of exciting opportunities for QASMT debaters. Our Debating Coordinators for this year are Mr Stewart Moore (Year 7-8 QDU, Friday CCA) and Mr Jeremy Isaac (Year 10-12 QDU, Year 7-12 BGDA). The Queensland Debating Union (QDU) competition kicks off very early in the term for Years 8 to 12 (Year 7 students - do not worry, your competition begins in Term 2!). The QDU is also offering many valuable workshops, so keep an eye out for information on these. We are also looking to enter teams in the Brisbane Girls' Debating Association competition. This is a fantastic opportunity for female debaters and, in addition to the Year 9-12 competition, for the first time in 2021 this competition is also open to female students in Years 7 and 8!
We have an extremely large and talented debating community at QASMT, and to cater for everyone, we are also running a CCA on Friday afternoons for any interested student from Years 7 to 9. Traditionally, our Year 11 and 12 students have been extremely generous in sharing their time, and we are looking for any student from these year levels to assist with QDU coaching, and coaching or adjudication for our new Friday CCA competition (this is a great way to build CAS hours!). Debating is an extremely valuable activity, and students develop their public speaking skills, rational thinking, teamwork, and is a great way to engage in important local and global issues.
Language and Literature Assessment Dates

Year 7

Autobiographical Text

Week 9

Year 8

Documentary Proposal

Week 7

Year 9

Poetry Podcast

Week 9

Year 10

CAR Log

Week 8

Oral Presentation

Week 9

Year 11 SL/HL

Paper 1 Style Exam

Week 10

Year 12 SL/HL

Individual Oral (optional)

Week 8

Paper 1 Style Exam

Week 10
Zachary Lujre, Head of Department Language and Literature
From the Department of Language Acquisition
ようこそ! Wilkommen! Bienvenue!
Bienvenidos! salvete! Welcome!
The Language Acquisition Department extends a very warm welcome to all students and their families from the QASMT community.
In particular, we have enjoyed meeting Year 7 and 10 students who are beginning their language learning journey with us. We hope you will enjoy learning a new language and connecting with different cultures.
We believe that learning a new language brings many benefits to students, including supporting their development of the IB Learner Profile attributes and QASMT values.
Students foster a curiosity (inquirer) and open-mindedness towards other cultures. They become more knowledgeable of their own mother tongue, and increase the cognitive capabilities of the brain (thinker). They learn to communicate with different audiences, in a range of contexts. To be successful language learners students are encouraged to be risk-takers by trying new language structures in front of their peers, and at the same time to be caring and supportive of their classmates. Language learners are encouraged to be principled and reflective in their work, taking time to review vocabulary weekly, set termly goals and use resources available to them with integrity and honesty.
Language proficiency is an asset when competing for a career in a globalised economy, and multilingualism is vital to the economic and cultural health of Australia. Studying a language will give you the opportunity to develop global knowledge, cross-cultural understanding and foreign language skills, as well as gaining that career advantage.
(https://www.qut.edu.au/__data/assets/pdf_file/0006/388923/studying-languages.pdf)
Tips for success in language learning:
Practice vocabulary in different methods: Flashcards, Education Perfect, Recall…etc
Bring all materials to class
Take good notes in class and revise them at home
Start a study group
Find a study buddy.
Our team is super excited to be working in M Block and F Block with wonderful facilities and classrooms available to us. To support our growth with the addition of Year 9 this year, we are delighted to welcome many new highly experienced teachers into our team:
Kerstin Liebchen, German Teacher;
Arnold Appelhof, French and German Teacher;
Jane Muil, French Teacher;
Cecilia Costa Gomez, Spanish Teacher.
These teachers are in addition to our wonderful and strong Language Acquisition teaching team:
French

German

Japanese

Latin

Spanish

Carole Sotgiu

Daniel Turner

Sabrina Schmid

Rachel Wilson

Keita Ishii

Tasha Damon

Hiroko Yamaguchi

Alex Moyse

Daniel Turner

Joao Baia Soares Vasco
Teacher Aides in Languages
We welcome Greta Cabot to our Languages Department again this year, who is working in German and French as a language specific Teacher Aide. She brings detailed Language expertise to the classroom, and helps students achieve their Language goals.
In addition to in-class aide, Languages is now being provided for in the Alumni tutoring program for the senior years. We welcome our new tutors and look forward to the collaboration between teachers and tutors.
German Year 12
This term will be a busy term for the Year 12 German class, as they are completing their final Year 12 Individual Oral in Week 3, and then preparing for their final exams on 28 April. We wish them the best of luck!
Japanese Year 7
Year 7 students learnt about the bean throwing festival in Japanese this week, and were able to taste some traditional soy beans. You can find out more about Setsubun here: https://www.tripsavvy.com/setsubun-japanese-bean-throwing-festival-1458346
International Mindedness
Ms Damon, Ms Wilson and Ms Yamaguchi are part of the International Mindedness working parties. International Mindedness is a view of the world in which people see themselves connected to the global community and assume a sense of responsibility to its members. Concepts that fall into this are: Multilingualism, Intercultural Understanding and Global Engagement.

International Mindedness Student Group
On 22 February, a student group will be launching the International Mindedness leadership group by celebrating mother tongue languages, as it will be International Mother Language Day. Watch out for the fun video in year level assemblies on that day, and check out the activities in the courtyard at lunch.
The Australian Computational and Linguistics Olympiad (OzClo)
OzCLO is a volunteer-run contest for high school students. It is a contest for high school students that challenges them to develop their own strategies for solving problems in fascinating real languages. Any secondary school student who enjoys the sample problems is a potential contestant. The OzCLO contest is held in two rounds around Australia.
Wondering how many people in Australia compete and where they are from? See the graphic above left.
The First Round is a two hour competition. Participants work in teams of four on a range of language analysis problems. The competition is held at the school with teams submitting their answers through an online form. The OzCLO 2021 Competition Round One will be held Wednesday 3 March 2021.
Ultimately we hope to instil a joy and love of languages which will be lifelong. To do this, we aim to offer students a range of experiences both inside and outside the classroom. In some cultures, it is tradition to use food as a welcome gift, so I have included a Peruvian welcome cake recipe (below).
If you have any questions at all regarding your child's language development, please do not hesitate to contact your student's Language Acquisition teacher or the Head of Language Acquisition, Ms Sabrina Schmid vie email sschm553@eq.edu.au.
Enjoy 2021!
Sabrina Schmid, Head of Department Language Acquisition

またね ! Bis später! A bientôt! Hasta la vista! valete!

See you soon!
A Welcome Cake Recipe - for you to enjoy!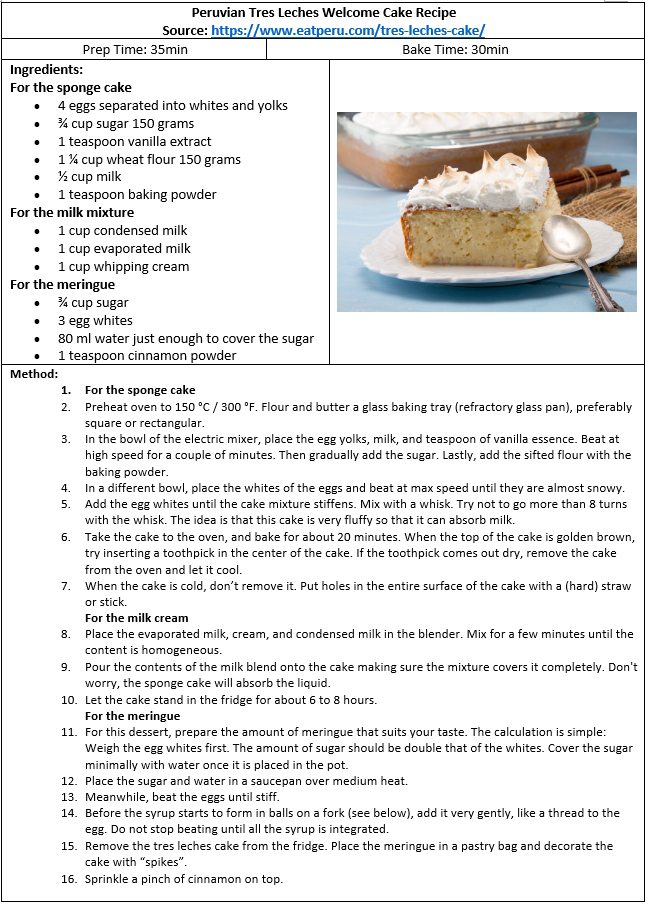 From the Department of Technology and the Arts
Welcome to 2021! We are delighted to have on board many new highly experienced teachers in our team.
Bekk Baumgartner joins the Technology and The Arts this year as a Classroom Music teacher and Instrumental Music teacher. Bekk brings many years of performance and recording experience in choral, orchestral and jazz music in Australia and on the international stage. Her most recent teaching experience includes Senior Music teacher and Head of Girls' Boarding at The Armidale School in regional New South Wales.
Renée Johnson has returned to the QA fold having been at QACI for over six years. She has also taught DP and MYP in Sri Lanka at the Overseas School of Colombo. A trained graphic designer, Renée loves to embed digital technologies into art practices.
Jacinta Lisec has joined teaching teams in Visual Art and Design. She has experience working in a range of education and training roles to support schools, community programs and research projects. For art and media, she was most recently teaching at Mt Alvernia College.
Mark Venz has joined the Design and Computer Science teaching teams. A member of the original team introducing RoboCup Jnr to Queensland students and teachers, he will be working with the Robotics program. Mark was previously teaching at Boonah SHS.
We also welcome Toni Waters into our Department. Toni will be joining the Arts team and will be teaching the Drama classes in Year 7 and 8. Toni has been teaching at QASMT for the past three years, and is proud to say that she has been teaching for over 30 years.
Middle Years Curriculum Offerings
We have made changes to our timetable for 2021 and semesterised our MYP Design and MYP Arts programs. This means that a student in Year 7 and 8 will have one semester of Design and have four lessons a week and one semester of The Arts, where they have have two lessons of Visual Arts and two lessons of either Drama or Music.
MYP Design
Inquiry and problem-solving is at the heart of MYP Design. We use the design cycle as a tool to structure the inquiry and analysis of problems, the development of feasible solutions and the evaluation and testing of the solution. Students in Year 7 will be working on developing a mobile application prototype. As part of the process they will interview their client (another student) to ensure the prototype is functional for their stakeholder. Students will be using the Design Cycle to support the development of their best ideas. In Year 8 Design, students will be exploring algorithmic thinking. Initially through pseudocode and real-life examples, they will then move onto learn the fundamentals of scripting languages and utilise JavaScript to develop an algorithmic thinking challenge for their peers. Through this, they will recognise the importance of effective planning and testing to develop a digital solution.
The Arts - Music
In Classroom Music, our Year 7 classes are discovering and questioning how composers manipulate the elements of music to create 'bold' or 'beautiful' music. Our Year 8 classes are starting a new unit tracking the development of Jazz & Blues, Rock and Roll and Pop music. All students are building on their theory and putting into practice their performing skills in groups to prepare for a live performance experience on stage in the Auditorium as part of their assessment.
The Arts - Drama
Welcome to QASMT Drama 2021! In Week 1, students were welcomed into the Drama classroom with a classic song from "The Who", "Who are you?" which states in the lyrics "Who are you? Who oo? Who oo? I really want to know!" In Drama, we are currently building relationships and getting to know one another through asking this question and playing a number of various drama games. Our goal is to get to know one another and build our social skills (ATLs) so that we can learn how to work successfully together in teams and create blockbuster theatre this year!
This term in Year 7, we will be actively exploring the inquiry statement: "Through structured play, artists cooperate to communicate role status and scene". Throughout this investigation the students will explore a range of drama techniques and skills to apply when participating in improvised performances. They will be required to work in a team and present a three minute performance from an unseen prompt at the end of the unit. The students will also keep a process journal and record their various reflections throughout the term, in regards to their learning experiences.
This term in Year 8, we will be actively exploring and investigating the inquiry statement: "The way we chose to present a story will create meaning for an audience." Throughout this unit, the students will be investigating various types of theatre and will create an in-class presentation of a pitch for a new theatrical production to be staged at QPAC. They will also present a process journal that documents the creative process of their theatre design. We look forward to seeing what the creative minds of the future will create for these presentations.
The Arts: Visual Arts
Year 7 Visual Arts students will explore the representation of natural forms to reflect research in environmental issues. They will make and respond to artworks to develop knowledge and skills in drawing, digital imaging and sculpture. Year 8 Visual Arts students will investigate the expression of identity, through a range of approaches including self-portraits and portraits of others, such as family members. They will make and respond to artworks to develop knowledge and skills in drawing, digital imaging and mixed media (for example, collage).
STEM Futures in Year 9
Each of our STEM futures courses run over one semester. This is what we will teaching in Term 1:
Year 9 Artists as Change Makers
Students will collaborate to research an issue of their choice to present a shared approach for a public artwork proposal. They will make and respond to artworks to develop knowledge and skills in design and sculpture for the purpose of persuading audiences towards positive change.
Year 9 Future of Automation
Students will research and develop skills in everyday Internet of Things (IoTs) components. They will make increasingly complex projects with various components to develop knowledge and skills in design and technology for the purpose of sustainable home automation.
Year 9 Biomedical Engineering
Students will be exploring the properties of bone scaffolds and using 3D printers to create models and designing experiments to demonstrate their understanding. This course was designed with support from Distinguished Professor Dietmar W Hutmacher, Professor and Chair in the Science and Engineering Faculty, School of Mechanical Medical & Process Engineering at QUT. We are very excited that Professor Hutmacher will come to QASMT to deliver a number of lectures specifically designed for our Year 9 students.
Year 9 Disrupt the Future
Students will jump straight into a rapid design project where the brief is to design a low-cost merchandise product using our new laser cutter. As our Year 8 Design students discovered last year, constraints can lead to creativity; therefore, our Year 9 students will be required to create a prototype based on a A5 piece of card. Will students design bookmarks or will they come up with an innovative solution that may go viral?
And here is a selection of some of our senior courses this term:
Year 11 and 12 Computer Science will be collaborating together to investigate our new case study. The case study explores the nature of genetic algorithms; algorithms that can combine and modify themselves to find a solution. Year 11s will also be familiarising themselves with the IB Computer Science curriculum and learning programming using the Java Language.
Information Technology in a Global Society (ITGS) is best categorised as a digital humanities subject as it explores the social and ethical issues arising from our increased reliance on computer systems and information technology. Students develop their critical thinking skills through the examination of questions such as: How safe are autonomous cars? Will robots make us redundant? Can we trust Facebook? Why should we be concerned about eWaste?
The first unit in Year 10 ITGS will provide a brief introduction into the general concepts that underpin the subject, including the social implications and ethical concerns behind IT systems. This knowledge will then be carried into our unit about Hardware and the Environment, in colloquial terms eWaste. Have you ever wondered what happens to your mobile phone when you have finished with it? This unit will explore the hardware components and their impacts from raw materials through to their disposal. Year 11 ITGS will begin exploring the nature of DP ITGS and the influence of media and social media in modern society. Who does social media help? How is multimedia used to influence viewers? What processes are used to develop these IT systems? These are some of the key topics we will investigate. From here, students will commence their project development. Students will find a client and develop an IT solution for them and from there, they will ensure an effective development process.
The Year 10 and 11 Visual Arts students will be learning different approaches to drawing, discovering mark-making techniques responding to the concept of Ecologies. Year 12s will have a busy start to the new year finalising their Comparative Study and conceiving and creating artworks making their way toward their final exhibition.
Robotics Program (coordinated by Mrs Sandra Knowles)
We are excited to welcome our Year 7 students into the successful Robotics Program from Week 3. We will be running many variants of robotics this year including First Lego League, First Tech Challenge, RoboCup and student-led independent projects.
We were very proud of our teams who entered First Tech Challenge - Nationals. In First Lego League, we had both our Junior and Senior teams qualify for the National - North tournament. The Senior First Lego League team, Celerity, were successful in qualifying for the International tournament for 2021 - no mean feat!
The Robotics Program will be supported by our Robotics Captain, Korin and the Robotics Ambassadors. We look forward to their fresh ideas and input. Drones are on the agenda this year and we will be offering a workshop taster, then we will be starting a Drone Club in Term 2. So stay tuned for more details.
Technology Ambassadors
The beginning of a new year for the new Technology Ambassadors brings two exciting and new events to the calendar. We're working with the Science, Maths and Robotics Ambassadors to organise Pi Day celebrations on 15 March – including a multitude of activities and demonstrations of technological prowess. In addition, a programming competition is in the works to give everyone a chance to show off their skills. Stay tuned!
eLearning @ QASMT
The first few days of school have been a busy time as all the Year 7 and 10 students prepare for our eLearning environment. Our students will receive their own Department of Education email account and significant cloud storage, through OneDrive, for their school work. In addition, students will install Office 365, including OneNote, which is a very powerful collaboration tool that is used widely across the school. This year, all students will have access to Adobe Cloud so that they can access the range of tools for creativity, particularly Photoshop and Illustrator.
I would like to draw your attention to two important policies that relate to the use of technology: Bring Your Own Device and the Responsible Use of Mobile Phones and other Devices. These can also be accessed through our school website. I do suggest that you take time to review both of these documents, particularly with regard to the use of mobile phones in school for our Middle Years students.
All in all, we have an action-packed term ahead of us and we look forward to getting to know our Year 7 and 10 students.
Madeleine Brookes, Head of Department Technology and The Arts
From the Department of Individuals and Society
Warmest welcomes to all new and returning QASMT students from the entire Individuals and Societies Faculty.
We look forward to getting to know each one of you in our classes and experience lots of fun as we are challenged to learn new things regarding the rapidly changing world around us.
While 2020 presented unprecedented challenges for students and teachers, it is with great pride that I can inform you that our Year 12 Business Management students achieved an Academy best GPA of 6.42! This greatly exceeds the world average for the subject in 2019 of 4.70. Well done to all students and thank you to the dedication and hard work of teachers, Yung Webster and Stewart Moore. Psychology also achieved outstanding results with a 6.02 GPA while Economics continues to exceed the world average.
While students in Years 10 to 12 will be focused in one area of study in either Business Management, Economics or Psychology, our MYP students will be experiencing different learning areas as the year progresses. Year 7s will commence with Civics & Citizenship with the unit focusing on government systems, beliefs and active citizenship. Cooperation and conflict trigger turning points, which lead to change (focusing on an Australian History perspective), will form the basis of Year 8 study for History. While Year 9 MYP students have selected one of five options that combine elements of Business, Economics, Forensic Psychology, Globalisation and History.
I&S Teaching Team
I have joined the I&S team as Head of Department this year, having relocated back to Brisbane after 10 years away in regional Queensland. I would like to sincerely thank Mr Brock Cullen for his outstanding contribution to the role in 2020. Here is a quick profile on the three new staff to the I&S faculty in 2021.
Tarne Bay
Previous school: A MYP and IBDP school in Hong Kong, West Island School, where I taught for 15 years
Specialist teaching areas: Psychology, History and PE
Hobbies: I am an avid reader. If it's not something easy like crime fiction, it's likely to be a non-fiction book with a historical or psychological theme. In the holidays, I re-read an oldie but a goodie, "Moonwalking with Einstein" about the art and science of remembering everything, by Joshua Foer
A favourite quote: Author Malcom Gladwell - "Success is a function of persistence and doggedness and the willingness to work hard for twenty-two minutes to make sense of something that most people would give up on after thirty seconds."
Lyle Fredericksen
Previous school: Past 4.25 years as HoD Humanities at Gordonvale SHS (30 minutes south of Cairns)
Specialist teaching areas: Business Management, Accounting and 7-10 Humanities & Social Sciences
Hobbies: Bush walking, playing/watching sport and reading – Stephen Fry's 'Mythos' was my favourite read over the holidays
Favourite movie: I never get sick of watching the Star Wars sequels
My favourite quote: Basketball and pop culture icon Michael Jordan - "I've missed more than 9,000 shots in my career. I've lost almost 300 games. 26 times I've been trusted to take the game winning shot and missed. I've failed over and over and over again in my life. And that is why I succeed."
Brian Scutter
Previous school: A private IB academy in Tokyo
Specialist teaching areas: MYP I&S, IBDP Business and Economics
Hobbies: Loving outdoor activities, especially hiking, surfing and fishing
Fun fact: Was once on a South Korean TV show – 'Sam and Dan's School King'
Interest: Learning to speak Mandarin
Lyle Fredericksen, Head of Department Individuals and Society
Theory of Knowledge
DP1 TOK
We welcome the DP1 cohort to their first year in the Diploma Program. In Theory of Knowledge (TOK), this group of students start working with a new subject guide. The students this term will start to consider how they gain and share knowledge and how their interpretation of facts and knowledge may be subject to many influences, such as personal bias and their cultural background.
The new guide also sees a substantial change in one of the two formal assessments completed over the two years of the subject. Later this year there will be an exhibition of three artefacts which they have used to gain and/or share knowledge. This assessment contributes one third of their final TOK grade, and we start introducing the requirements of this assessment to the cohort during this term. This assessment replaces the TOK presentation task assessment, which was also completed in their first year of the Diploma Program.
DP2
We welcome back the DP2 students with the awareness they have all completed their TOK presentation task last year, which contributes one third of their formal TOK grade for the Diploma. The students this term will continue to prepare for their formal essay assessment to be completed later this year. This assessment contributes two-thirds of their final TOK grade for the Diploma. In early March, a list of six prescribed titles will be issued by the IB, and the students need to have selected one of these for their essay, by the end of this term. They are then required to submit, for feedback, a draft essay of 1600 words in mid Term 2. They will receive this feedback by the end of Term 2, allowing them to then work on their essays for final submission in early Term 3.
David King, TOK Coordinator
From the Department of Physical Sciences
Welcome!
This year I will be switching roles to HOD Physical Sciences, which comprises Chemistry and Physics in the Senior Year and the STEM Futures Program in Year 9. It has been a pleasure to welcome our new Year 7 and 10 students to QASMT in 2021, as well as a welcome back for our returning students in our first year as a full 7-12 secondary school. I hope that all are refreshed and ready for another exciting academic year. All students have settled quickly into QASMT routines and we are looking forward to another successful year of learning.
We also welcome new members to the teaching staff in the Physical Sciences Faculty this year. Mr Jack Bailey, Ms Jennifer Colley and Mr Michael Parker join us in the Chemistry teaching team and Ms Sara Hensley joins the Physics team. They come to us with a wealth of experience and they are quickly getting to know the students in their classes.
Curriculum
We are very excited to officially welcome our first Year 9 cohort into the STEM Futures Program. The curriculum is comprised of STEM Futures Electives, written in collaboration with university/industry links to provide a challenging and engaging curriculum designed to enhance students' knowledge, understanding and skills in STEM and global citizenship. The vision for this program is a future-focussed STEM curriculum that engages passionate, innovative learners capable of creating positive and sustainable change. We have a very full program in a range of electives across the Sciences, Design and Individuals and Societies, including subjects such as; Fuelling the Planet, World of Reactions, Biochemical Solution, Medical Physics and Sustainable Futures.
Year 12 Chemistry and Physics students will be completing the Internal Assessment (IA) component of their IB Science subjects over the next two terms. The IA counts for 20% of the final grade that students receive in Experimental Science subjects. This assessment task is internally marked by subject teachers, and then externally moderated by IB markers. The challenge for Year 12 students over the first half of this year is to balance the competing demands of IA, TOK and EE, with keeping up to date and on top of classroom learning. Organisation and good time management, are key to being successful during this phase of the IB Diploma.
International Science Fairs
This term, QASMT will be participating in two international science fairs. The first is the KVIS Science Fair hosted by a specialist maths and science school in Rayong, Thailand. Rosalita Rosenberg and Andrea Frederick from Year 12 have been preparing their research projects over the summer ready to share their results with an international audience. Rosalita is presenting her research on measuring surface tension using capillary effect in a wedge. Andrea is presenting the results of her research at the SPARQ Ed where she investigated the human papillomavirus.
The second fair is the Singapore International Science Challenge 2021 hosted by National Junior College. Jessica Bailey, Xavier Groth and Stevie Chiu in Year 11 will present their research on hydrophobic and hydrophilic leaf surface structures.
All Year 11 students have been invited to submit applications for Science Fair research projects by the end of Week 3 this term. We anticipate sending students to a number of national and international fairs including International Student Science Fair (ISSF) 2021, The Korean Science Fair, Japan Super Science Fair, Australian Science Fair and the John Monash Science Fair, later in the year. Please contact Dr Kirsten Hogg if you'd like more information (kxhog2@eq.edu.au).
Catherine de Freitas Pessoa, Head of Department Physical Sciences
From the Department of Life Sciences
Foundation Life Sciences
A very warm welcome to all new families to QASMT for 2021, and welcome back to all returning families.
I would like to introduce myself, my name is Vanessa Bermingham and I am the new Head of Department for Life Sciences Foundation, and my main role is looking after Year 7 and 8 Foundation Science. I am passionate about STEM education and fostering curiosity in the early high school years. I am excited to be working with everyone at QASMT, and look forward to meeting families over the course of the year.
We have two new staff members joining us in the Foundation team who bring a wealth of experience. I would like to extend a warm welcome to Cecelia Costa Gomez (Spanish and Foundation Science) and Sara Hensley (Physics and Foundation Science).
Curriculum
Year 7s have had a great start to the year, meeting their teachers and learning about lab safety and protocols. For many students, this is the first time in an actual lab (as said by the students) and they were excited to see what was inside. Year 7 students start with Physics this term, investigating forces and motion, and will complete a science investigation and a written exam. Year 8s have had a wonderful start to the year and have hit the ground running in science. They also start with Physics looking at energy transfer and transformations and will complete an end of term exam and a science investigation for assessment.
Students have been informed about naming lab coats and safety glasses clearly, and ensuring they keep these in their lockers (unless dirty and need to be washed). We have a number of these ending up in lost property and these are required during practicals. We would hate for students to miss out on the practical component of science because they have lost their PPE.
QASMT Science Ambassadors Program
I look forward to working with the Science Ambassador student leaders alongside Andrea Martin this year. The Science Ambassador Program aims to enrich the QASMT student experience by creating opportunities for students to develop teamwork and interpersonal skills, network with like-minded students, promote science to the local and wider community, and further develop their science interests. The Science Ambassador Program is part of the wider student leadership program offered at the Academy. Year 8, 10 and 11 students are invited to apply towards the end of Term 3 each year, and hold the position for 12 months. Science Ambassadors are led by a student Science Captain, in collaboration with two members of the QASMT teaching staff. All Senior QASMT Science Ambassadors are enrolled in the UQ Science Ambassador Program. Science Ambassadors promote Science to both the QASMT and wider community by engaging in various activities throughout the year and during National Science Week.
"Remember to look up at the stars and not down at your feet. Try to make sense of what you see and wonder about what makes the universe exist. Be curious. And however difficult life may seem, there is always something you can do and succeed at. It matters that you don't just give up." Stephen Hawking 1942-2018
Vanessa Bermingham, Head of Department Life Sciences Foundation
Life Sciences Biology
My name is Esme Hatchell and I am extremely excited to be your Life Sciences Biology Head of Department for 2021. I have taught Biology at QASMT for five years, and I can truly say this is a wonderful and engaging place to study and teach Biology.
I'd like to say a big hello to all our new Year 7 and 10 students, as well as a warm welcome back to our Year 8, 9, 11 and 12 students!
And now let me tell you a little bit about what we will be doing in Biology, Term 1.
This term, the Year 10s will begin their Diploma Preparation Program, which has been especially designed in-house as a precursor to the IB Diploma Biology Program in Year 11 and 12. In Term 1, the unit for Year 10 is Cell Biology and Genetics. Here we will delve into the biological differences between plants and animals, as well as between prokaryotes and eukaryotes. We will question what makes a cell a cell, and answer how exactly do cells eat and drink to sustain themselves? We will look deeply into the inner workings of our body - our DNA - and investigate what makes us similar, what makes us unique?
Very excitedly the Year 11 cohort has just begun their IB Biology journey! Students should now have all the documents they need for the beginning of this journey. This term, our Year 11s will be beginning their Diploma with big biological questions such as (some of my favourites): where did cells come from; and why are we multicellular and not one giant amoeba-like cell? They will be learning about the technical side of using different microscopes, including stereoscopes, compound light microscopes, as well as a research-level scanning electron microscope (SEM) that we will have here for two weeks later this term.
Our Year 12s are finalising their IAs this term, and we will be moving through a cycle of drafting and final IA submission over the term. In their class studies, the Year 12 cohort will be investigating evolution, classification of organisms, botany, as well as beginning their studies on human physiology – it's going to be a big term! If you are a Year 12 student, or a parent or guardian, reading this, then please know our expert Biology teaching team will support you all the way.
On that note, I would like to welcome a new staff member, Jamee Rose, who joins our expert team here including Saengdao Philavane, Ross Avery, Sue Goode, Vanessa Bermingham and myself. Between all of our Biology teachers, we have a huge wealth of experience in both IB and Biology. I am proud of our teaching team, we are extremely driven and committed, and we look forward to helping our students learn Biology at every year level.
One last thing: Don't forget your lab coat and safety glasses, for all the practicals you will be doing this term. Bring them to school to put in your locker ready for doing laboratory experimentation!
Esme Hatchell, Head of Department Life Sciences Biology
From the Department of Mathematics
The Mathematics Department extends a warm welcome to all new and returning students and their families.
We are delighted to welcome Mr David Isles and Ms Georgina Lunn to our team.
With our first cohort of Year 9 students and our first Year 12s graduating within the new Diploma courses – Mathematics Analysis and Approaches (AA) and Mathematics Applications and Interpretations (AI), it will be a busy, but exciting year.
At QASMT, we believe that studying Mathematics can help make sense of the world through careful analysis, searching for patterns and relationships, and problem-solving. Throughout the MYP and DP programs, students will develop a mathematical mindset – one that is more than learning formulae or rules. Our aim is for students to be active participants in the search for concepts and relationships, so they can discover that Mathematics is full of excitement, wonder and real life application. As IB students will strive to be THINKERS, using "critical and creative thinking skills to analyse and take responsible action on complex problems".
In Maths lessons, we want our students to ask questions, have a go, take risks, make mistakes and challenge their thinking. This GROWTH MINDSET attitude will help their brains to grow and their confidence to soar.
In the classrooms……
Year 7 classes will be considering 'How different cultures represent numbers' through their study of whole numbers, algebra and fractions. 'A little bit of history repeating' unit, for Year 8, will see them investigate equivalence while studying fractions, decimals, Pythagoras Theorem and congruence. Pythagoras, surds and trigonometry will be used by Year 9 students in their unit 'Howzat' where they will get the chance to apply this knowledge to sport.
Year 10 students will focus on GDC (graphic calculator) skills, sets and venn diagrams, algebra and surds in readiness for their first test in Week 7. In the Diploma Program, both Year 11 and 12 students will be working on their internal assessment, an exploration of a mathematical topic. As this is a practise for Year 11s, they have limited choice of topics, but the Year 12s can chose their own topic.
Maths Enrichment
I would like to introduce and congratulate our Mathematics Captain and Ambassadors:
Mathematics Captain: Alex He
Ambassadors: Vismaya Daamodaran, Kieran Tran, Luna Shin, Amanda Hua, Elizabeth Lee and Katherine Lu
This group will be working with Ms Josey to come up with exciting activities, competitions and interesting problem solving challenges. Watch this space!
Another new maths opportunity this year for Year 7, 8 and 9 students is the 'Maths Chill Chats' CCA on Monday. This club is an opportunity for students to chat with others about their love of maths, try out some cool problems, prepare for competitions or even just catch up on some missed work.
Mr Madigan will again be offering our new Year 10s the chance to participate in our Mathematical Extension Club as part of the CCA program on Thursday lunchtimes. This club is based on the Mathematics Challenge for Young Australians (MCYA), and develops maths knowledge and critical thinking skills which are not normally covered in class, but are essential for success in many mathematics competitions. The club is open to any interested Year 10 student who should have already signed up. If your child is interested and did not sign up this term, there will be future opportunities to do this.
Holiday Enrichment Programs
Over the school break a number of QASMT students were invited to Maths enrichment programs. Here are their thoughts about their experiences.
"Before coming to NMSS, I thought the camp would simply be an extension of school, where I learn rules and solve questions. Although it was a huge surprise, I've really enjoyed 'thinking deeply about simple things' because it made me aware of things I'd never even considered. I will never multiply by a negative in the same way again now that I've spent hours trying to prove the rule behind it! I think that's a good thing because this experience taught me how exciting it is to consider the simple things and the whys behind those things. It's like how learning a new language changes your thinking patterns. NMSS has made me more conscious of my thinking and has given me strategies that allow me to form conclusions I never would have previously considered." Rosie Rosenberg, Year 12, attended National Mathematics Summer School (NMSS)
"The Queensland Mathematics Summer School (QMSS) was conducted by the UQ School of Mathematics and Physics, which offered an enriching and compelling perspective into the field of Mathematics where students, like myself, were able to attend lectures and workshops conducted by Mathematicians who have worked in different fields of study such as cryptography, computer science and oceanography. The summer school focused on the applications of discrete mathematics in the use of computers, algorithms and technologies that are pivotal in the 21st Century and allowed like-minded students to collaborate and work on challenging problems. Although the summer school was conducted online, the coordinators and students at UQ created a platform that was engaging and informative for students." Kieran Tran, Year 11, attended QMSS
"Masterful mathematician lecturers, maths-minded classmates, and an invigorating week full of intriguing Zooms! The virtual AMOC School of Excellence in December 2020 was a unique, challenging, and very enjoyable mathematical experience for me, that took place in the last week of Term 4. It was comprised of a week of scheduled, carefully timetabled Zooms which were designed to give some 100 high school students across Australia an educational, interesting, and fun week in Olympiad mathematics, as well as training us potentially for International Olympiad maths competitions, such as the International Maths Olympiad (IMO) and the European Girls Maths Olympiad (EGMO). As well as a set of challenging and fascinating mathematical lectures each day in the School of Excellence, students had the opportunity to engage in some fun virtual activities such as, team Revision Contests, the Team Contest and the Gameshow. For me, the best parts of this experience were being able to connect with like-minded peers all across the country, which was very exciting. I also thought it was really cool being taught by real-world mathematics professors, who were all very experienced in their respective fields, and many of whom had themselves been past competitors in the IMO or EGMO. Overall, the virtual AMOC School of Excellence has really increased my appreciation for mathematical beauty and passion for maths in general, and I am really thankful for this amazing experience." Elizabeth Lee, Year 9, attended AMOC School of Excellence
Through her participation in the AMOC School of Excellence, Elizabeth Lee has been invited to compete in the Australian Mathematics Olympiad Competition next week. We are fortune this year to have two new Year 10 students who were part of this program, so Zakariyya Von Forslun and Callum Loughlin will also join Elizabeth to compete in two four hour tests over two days. It is an outstanding achievement to be invited to participate in this competition while in Year 9 and 10. We wish Elizabeth, Zakariyya and Callum every success.
Pi day is 14 March (3.141502693…) every year. The Annual QAMT/UQ Problem Solving Competition is always held around this time. This competition is open to all students in Years 7 to 12, and is quite a challenging competition. It is a two hour competition with approximately 10 challenging questions that require full working out. The Year 11 results are taken heavily into consideration in the choice of Queensland students to be offered places in the National Mathematics Summer School, held in Canberra each January. Please keep an eye on your emails, as I will be calling for interested students early next month.
Jane Gorman, Head of Department Mathematics
From Education Outside of the Classroom (EOTC)
Education Outside the Classroom (EOTC) is a new faculty at QASMT, offering curriculum based teaching and learning activities that go beyond the walls of the classroom. We have a strong emphasis on students getting involved in extra-curricular learning activities to enrich their experiences at QASMT, as well as fostering a growth mindset.
This term, we have a number of opportunities for students to engage in a variety of enrichment activities which include; Cross Country/Walk-a-thon, camps, the Sports Program/Junior Gala Day and a wide array of CCA activities.
In addition to extra-curricular activities, we have a strong Physical and Health Education (PHE) and Sport Exercise and Health Science course which also empowers students to understand and appreciate the value of being physically active and develop the motivation for making and promoting healthy choices. After all, healthy bodies lead to healthy minds!
We look forward to a great term filled with lots of fun and engaging experiences for our SMT students! Here's a little more information about what we are up to this term.
PHE Curriculum
As you know Physical and Health Education presents a prime opportunity to develop fundamental abilities of wellbeing across a range of components. Year 7 will embark on a journey of interpersonal skills growth, where activities such as Capture the Flag and other team games will be the core of the practical component. Besides increasing student fitness level and stimulating beneficial physiological responses, these activities are a means of combining fun moments with the encouragement of communication and social skills through problem-solving situations.
Our Year 8s will focus on game analysis and evaluation of strategy in achieving set goals by engaging in activities such as cricket, softball/tee ball and French cricket. These games are good examples of how to improve motor skills such as hitting, kicking and throwing, which are transversal to a range of sports and exercises. We will also emphasise nutrition, not just as an approach to understanding how to improve fitness performance, but also to establish healthy habits from an early age, developing self-management and research skills.
Joao Baia Soares Vasco, PHE Subject Coordinator
CCA (Co-Curicular Activities)
We are most certainly hitting the ground running with our CCA program this term, with over 40 different clubs and programs being offered! Students have made their selections and our Term 1 program will kick off in Week 4. Clubs include: junior electronics, robotics, run/walk club, environmental and diversity club, and many more. Students are definitely spoilt for choice. With the diverse range of challenges outside of the classroom, I look forward to watching students develop new strengths, overcome challenges and share experiences by connecting with like-minded peers. Remember – our CCA program will run all year, so there's no need to join multiple clubs all at once!
Yanah Floridis, CCA Coordinator
Sport Program
The term ahead for our Sport Program and Gala Days is extremely exciting. We are offering boys volleyball (all ages), girls basketball (all ages), boys basketball (Year 7, 8 and 9 only), boys and girls touch (all ages), and boys cricket (senior only). With interest in sport increasing at SMT in recent years, our program is now the largest it has ever been. Well done to those who wish to maintain a healthy body and also learn new skills and make new friends at our sports training. We also have quite the reputation to uphold in our district, having performed extremely well in many sports. I believe we will maintain this high level of performance especially with the continued assistance of specialised coaches who are second-to-none. If you are looking for an opportunity to meet new people, be physically active and learn or hone your sporting skills, then look no further than the SMT Sports Program.
Ross Bray, Sports Coordinator (Junior Sports Program)
Representative Sport
Term 4 was another successful term for sport at QASMT. Shlok Dani in Year 7 (2020) made the Met West Regional 12-14 year boys cricket team. This was a highly competitive team to make, and Shlok was very successful at the four state tournaments in Toowoomba, including a very impressive knock of 48 runs. Watch for Shlok's name in cricket highlights in the future!
The Junior Social Gala Day also produced some memorable efforts from students at the Academy. The Year 8 girls volleyball, Year 7 girls futsal and Year 7 and 8 girls cricket all won premierships – well done. All students represented the Academy with great spirit and sportsmanship.
Representative sport is up and running and the following sports are happening in the first weeks of Term 1: swimming, baseball, squash, water polo, golf and boys 16-19 years cricket. Any students playing any of these sports at a high level should see Mr Conway immediately.
Sean Conway, Representative Sports Coordinator
Tennis Program
This year we are excited to welcome back Dudgeon Academy who will be running the tennis coaching program at QASMT, exclusively for our students. There are still spaces available for coaching, but please be advised that all enquiries about tennis should be made directly to Dudgeon Academy through their website www.dudgeonacademy.com.au (as this runs outside of our Sports Program).
Yanah Floridis, Head of Department Education Outside of the Classroom
From the House Dean of Agnesi
"The never ending quest for ZEST!"
Welcome to Agnesi House 2021. As Agnesi House Dean, it is my pleasure to welcome everybody to the Agnesi family! Agnesi House has for the first time, a full cohort of students from Year 7 through to Year 12 and I am sure everyone is looking forward to an exciting year. This is a great opportunity for our returning students to share their wisdom and SMT 'life hacks' with our new students, and to develop long lasting friendships.
Positive Education Program (PEP) – Positivity and Purpose
The PEP focus this term, and indeed our House and Instep focus, will be on cultivating positive relationships between all members of Agnesi House including, students. teaching staff, our support staff and our school leadership team.
Agnesi House Captains
Agnesi House Ambassadors
Year 7 and Year 10 Camps
I hope Year 7 and 10 Agnesi students are looking forward to heading out on camp this term. These camps are designed to afford our students an opportunity to develop positive relationships and life skills through shared experiences. I hope that the friendships and comradery formed as a result of this time together will support and sustain our students in the years to come.
Year 9
2021 is shaping up to be a groundbreaking year for Year 9 Agnesi students – not only will they be the first Year 9 cohort ever at SMT, but they will also be the first cohort of students to experience the new Sustainable Futures STEM Electives. As House Dean, I will be following the progress of Year 9 Agnesi students very closely, and I will be there to support them every step of the way as they navigate these new learning opportunities.
Cross Country
Agnesi House will have our first opportunity to win house points for 2021 at the Cross Country Carnival event, which takes place in Week 6. I have very high expectations for Agnesi, and I encourage all Agnesi students to participate, regardless of your athletic prowess. I urge all Agnesi students to find a buddy to run the event with, or at the very least, to walk the course. Remember there is safety in numbers, so don't be shy! Every point counts at the end of the day. I would also like to remind students that there are points up for grabs for House spirit, so get your purple colours on and cover the oval in a purple haze.
Harmony week
Harmony Week is the cultural highlight in the school calendar and this year, Harmony Week will take place in Week 7 of Term 1. The theme this year will maintain our focus on International Mindedness but with a new twist - so watch this space for details. I will be looking for volunteers from Agnesi House to get involved with flag bearing, running cultural activities and wearing their cultural dress with pride.
My hope for 2021 is that every member of Agnesi House feels nurtured and supported, and that everybody embraces the never ending Quest for ZEST!
Please don't hesitate to contact me via email adavi581@eq.edu.au.
Aileen Davis, House Dean Agnesi
From the House Dean of Curie
"Nothing is to be feared, it is only to be understood. Now is the time to understand more, so that we may fear less." Marie Curie
Welcome to 2021 and the start of a new school year! I trust you have all had a refreshing and invigorating break and have returned to school focussed, full of curiosity and enthusiasm. It is a thrill each year to see our new Year 7 and 10 students walk through the gate on their first day, with their pressed uniforms, polished shoes and wide eyed looks of wonder on their faces. As they begin life at SMT, there are many questions and feelings of nervousness and uncertainty. However, students quickly start to meet like-minded colleagues and friendships are formed.
It has been lovely to meet all the new students over the last week and to welcome back our returning Year 8, 9, 11 and 12 students. It was a very momentous occasion standing in the Auditorium on Thursday morning for the Commencement Assembly, with a full hall of students and staff, taking a moment to acknowledge that 2021 is the first year that SMT has a full cohort of Year 7 – 12 students. I am looking forward to the year ahead, forming positive relationships with you all and providing the support you need to flourish!
Onwards and Upwards
After an extremely successful 2020 with Curie winning almost every event and taking home the House Cup, Spirit Trophy and Athletics Carnival Trophy, I am excited for the year ahead and continuing our winning ways. The 2020 House Captains did a spectacular job in leading Curie to glory, and I am excited to work with the new House leadership team. With a major restructure of the Academy student leadership in 2020, this year will see a team of House Captains and Ambassadors leading the house. I am very proud to welcome the 2021 Curie student leadership team.
Curie House Captains
Curie House Ambassadors
Preparation is the Key to Success
As the year begins, take time to reflect on 2020 and write down your goals for 2021. It is important to think about and plan what you hope to achieve this year, both at school as well as the other aspects of your life. Setting goals and making them visible will assist in plotting your course and direction for the year. Once the overall goals are set, you will need to think about what steps are needed to achieve these goals. Break the steps down into small manageable and attainable short-term components that move you forward on your path to achieving your goals.
I encourage you to be risk-takers and push yourself outside of your comfort zone.
InStep
To nurture to know, building relationships within the InStep and House is the theme for Term 1. I have challenged the Curie students to know everyone in their InStep by the end of the term, and I am proud to say that many of our students have accepted this challenge and are actively developing relationships. I am excited to be working with an outstanding group of teachers who are looking after and caring for your children. These teachers are bringing energy, positivity and creativity into each InStep lesson. They are engaging with your children and facilitating the development of relationships.
I would like to introduce you to the fabulous Curie teachers:
| | |
| --- | --- |
| InStep | Mentor |
| INC01 | Ms Bay |
| INC02 | Ms Knowles |
| INC03 | Ms Lunn |
| INC04 | Ms Johnson |
| INC05 | Mr Cullen |
| INC06 | Mr Bailey |
| INC07 | Dr Hogg |
| INC08 | Ms Olsen |
Term 1 – Key Dates
The start of the year is a busy time with numerous parent information nights, camps and the Cross Country Carnival occurring, as well as the start of the Education Outside the Classroom (EOTC) program, including Co-Curricular Activities (CCA), sport, robotics and music programs. Below are some key dates for the term:
| | | |
| --- | --- | --- |
| Date | Week | Event |
| 10 – 12 February | Week 3 | Year 10 Camp |
| 22 – 24 February | Week 5 | Year 7 Camp |
| 8 March | Week 7 | Cross Country Carnival |
| 10 March | Week 7 | Year 12 Career Mentoring Breakfast |
| 15 – 19 March | Week 8 | Harmony Week |
| 29 March – 1 April | Week 10 | Year 11 and Year 12 Exam Block |
Ownership
I encourage Curie students to take ownership of their learning and have confidence in themselves. Be prepared, be on time, be in class and be at school every day. This is your education and your journey! Have a wonderful and successful term.
Pink isn't just a colour, it's an attitude! Go team Curie!
Please don't hesitate to contact me via email dfann6@eq.edu.au. I am looking forward to the year ahead and working with you and your child to support them to flourish.
Yours in pink,
Dean Fanning, House Dean Curie

From the House Dean of Da Vinci
"I have been impressed with the urgency of doing. Knowing is not enough; we must apply. Being willing is not enough; we must do."

DaVinci
A huge welcome to all our DaVinci families – new and returning. I am humbled to be your Da Vinci House Dean for 2021 and look forward to leading the community with our House Captains and Ambassadors. As I write, it is our second day of school, and I already have knocks on my door with wonderful ideas that will create and foster community.
At the end of 2020, I was able to meet with Ms Neha Reddy to learn the ways of Da Vinci. She shared with me our passion for fairness, honesty and community. During our InStep Assembly today, I was warmly greeted by our Captains, Eugeenia Wen and Lachlan Peel, as well as our charismatic Year 12s. I clearly understand Ms Reddy's passion for the energy of DaVinci House. We are in for a exciting year with this group of student leaders. I look forward to facilitating this energy.
My name is Stacy Wallace-Cunningham, I have recently returned to Australia after teaching and leading at schools in Uganda, South Korea and Argentina. I was on my way to China to complete a review of social emotional learning across two campuses, but COVID had a new plan for me, and I am grateful to have landed back home, with my family, in a very fortunate country and working at SMT.
Da Vinci House Captains
Da Vinci House Ambassadors
Orientation Days
We have spent the last two to three days being provided with a lot of information to help us settle in, learn the ropes and be successful. However, as DaVinci said, "knowing is not enough; we must apply". I look forward to Week 3 and beyond to apply all our orientation learning. A key message is to ask questions - so when in doubt, do not hesitate to ask myself or our Captains and/or Ambassadors.
I hope this year that you are ready to FAIL with me. It sounds crazy to aim to fail however, some of our greatest achievements come from the lessons we learn when failing. To FAIL, is our First Attempt In Learning. I aim to shape many of my conversations around the lessons we learn from the challenges and differences we find in our experiences this year.
PEP Classes
Each week we will meet to cover the Positive Education curriculum. The purpose of Positive Education brings together the science of Positive Psychology with best practice teaching, to encourage and support individuals, schools and communities to flourish. Over the year, we will address the six domains of wellbeing; positive relationships, positive emotions, positive health, positive engagement, positive accomplishment and positive purpose.
Get Ready, it is Cross Country Time
Our House Captains and Ambassadors today were informing me of how brilliant DaVinci is at House spirit and participation. Regardless of our skills in distance running, we can get out and enjoy the experience together. Highlight on your diary, Week 7 Monday, as a super important day for our students to come out in green and participate. I look forward to our first chance to show our historical House spirit.
Year 7 and 10 Camps
Our Year 7s and 10s will prepare for camp this term. These camps provide a myriad of activities that challenge ourselves and allow us to build community. At SMT we value the IB Learner attributes. These camps will provide opportunities for us to apply these. I look forward to being open minded about camping and taking risks with new activities.
Remember knowing is not enough, so apply, fail, reflect and repeat. Enjoy 2021 Term 1! Please do not hesitate to contact me, and I look forward to a great term ahead with Da Vinci!
Stacey Wallace-Cunningham, House Dean Da Vinci
From the House Dean of Franklin
Please allow me to take this opportunity to welcome all parents and students to Franklin House.
I am very excited to build on our successes! I wish all of our students the very best as they begin 2021.
Term 1 is shaping up to be a big one in Franklin House with camps for Year 7 and 10, the Cross Country Carnival for the whole House and Harmony Week. I am certainly looking forward to seeing the Franklin spirit in action at the Cross Country Carnival – I expect to see the Franklin students living up to our motto "Winning's in our DNA". Franklin House is also revamping our war cry, so be sure to ask your students to give you a demonstration!
I think I speak for the whole House when I say that Franklin is looking forward to building on what has been established and continuing to provide a supportive environment in which everyone can learn and flourish.
I would like to thank all of Franklin for working hard to be neat, presentable, punctual and prepared to learn at all times. I am confident that this high standard will be maintained throughout 2021. I am looking forward to the term ahead and all of the opportunities it is bringing!
Franklin House Captains
Franklin House Ambassadors
The Franklin leadership team has been hard at work over the holidays and have come back eager and enthusiastic to bring all of their ideas forward. One of their initiatives is their noticeboard in our locker area which they have designed and filled with great information, welcoming messages and fun facts. I think I speak for everyone when I say that I am looking forward to what else they have in store for the House this year!
Below are some key dates in our calendar for the term.
| | | |
| --- | --- | --- |
| Date | Week | Event |
| 10 – 12 February | Week 3 | Year 10 Camp |
| 22 – 24 February | Week 5 | Year 7 Camp |
| 8 March | Week 7 | International Women's Day and QASMT Cross Country |
| 10 March | Week 7 | Year 12 Career Mentoring Breakfast |
| 15 – 19 March | Week 8 | Harmony Week |
| 29 March – 1 April | Week 10 | Year 11 and Year 12 Exam Block |
Kate Oxenford, House Dean Franklin
From the House Dean of Hawking
Welcome to Hawking!
I am very excited to welcome all students and parents of Hawking to the first Term Ahead newsletter for 2021. I trust that you had a restful and wonderful break! 2020 was a challenging year for Hawking House but the students certainly showed resilience! Having met the new Year 7s and 10s, combined with some fantastic new House leaders, I'm very excited about what 2021 has in store for us!
Hawking House has two student House Captains and many year level House Ambassadors who help support the students and develop House spirit. Here is the team:
Hawking House Captains
Hawking House Ambassadors
I look forward to working with these students to really put Hawking 'on the leader board' starting with Cross Country on 8 March! The House will need to unite as one by showing all of their enthusiasm and spirit with lots of orange coloured clothing, a loud war cry and maybe even the odd tiger head! Let's show SMT what we are made of!
New to this term, to help our students continue to get to know one another, is the Hawking Olympics! This will see InSteps compete against one another in order to be crowd champion. More information coming your way in Week 3.
In addition to these House events, we have Year 10s going on their first camp on 10 - 12 February, followed by Year 7 students on 22 – 24 February. Both camps will allow students to build relationships and get to know one other as a year level and a House. This will be a great opportunity for the students of Hawking House to really get to know one another and make some new friends.
Positive Relationships is a fundamental domain in our Positive Education Program (PEP). At SMT we pride ourselves upon being a Positive Education School and I look forward to teaching this curriculum explicitly to Years 7-11 in PEP lessons. We are really fortunate to have Positive Education lessons in Year 11 this year, and I believe this will have a huge benefit to these students as they begin their Diploma Program.
In addition to building on House spirit and relationships, the House is passionate to continue our work with our House Charity – Eat Up. Year levels will be split to allow for three events throughout the year, giving students the opportunity to give back to those less fortunate than themselves, and make sandwiches for students who are unable to afford a school lunch.
Harmony Week in Week 8 promises to be a wonderful celebration of culture, from flags to k-pop, to Bollywood - it will all be there! There will be information signs up soon, so be sure to keep your eyes peeled.
I'm pleased to see that all Hawking students are settling in well and are maintaining the high expectations of the Academy regarding uniform, attendance and behaviour expectations. I am confident that they will continue to uphold these throughout Term 1.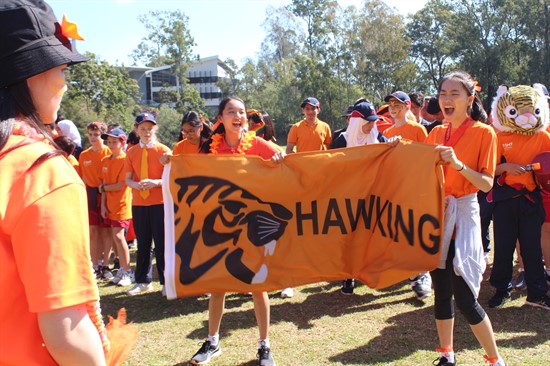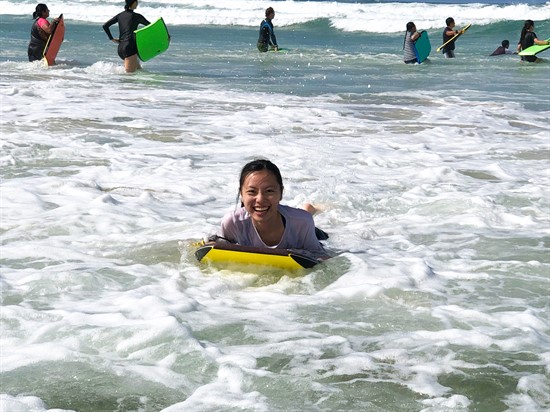 In the meantime, should you need any assistance, please do not hesitate to contact me via email rbrow477@eq.edu.au or extension number 382.
I wish all Hawking students a great Term 1!
Rebecca Parker, House Dean Hawking
From the House Dean of Hollows
"And they are off and racing!"
Another busy year awaits us all as our students embark on their SMT journey. For some it will be their last year of high school and for others, it will be another small step in their high school journey. No matter where students are in their journey, they all must be mindful that they are always building their story, showcasing their brand and demonstrating their character to those around them.
Simple Hollows House rules for 2021:
Show up each day. Attendance at school is vital for IB success.
Wear your uniform with pride.
Be kind to others.
Enthuisastically engage and participate in activities.
Meet work obligations and display initiative.
Year 8 Thoughtfulness
It was great to see the joy on the Year 7 faces when they were given welcome packs, put together by the Year 8s (the previous Year 7s). The students were very grateful and were made to feel welcome by the thoughtful gesture of the Year 8 cohort.
Hollows House Captains and Ambassadors
Kayla Malherbe and Josh Chatterjee are the Captains of Hollows House and alongside the Ambassadors (Catherine, Arpita, Aysha, Ryan, Kunal, Jothsimar and Anika) form a formidable team to battle the other Houses. Already they are putting together initiatives for a House Flag design competition, working with a team to create and choreograph the House war cry, along with many other InStep challenges and activities.
Who am I?
My name is Mr Michael Colquhoun and it is my pleasure to be your child's House Dean for 2021. A Business Management and Economics teacher by trade, I have taught in schools in Victoria, London and Brisbane, and after three successful years at SMT I am looking forward to continuing to set up Hollows House in 2021, and will do my best to ensure your child has a very enjoyable and successful schooling experience. As a family man with three younger kids, I understand the demands of life on households, and the time pressure to get things done. Please feel free to contact me if you have any questions.
The Hollows Team
Hollows House is in great hands in 2021 as teaching experts from different fields have come together to be part of this House and engage with your child.
| | | |
| --- | --- | --- |
| InStep | Teacher | Teaching Field |
| 1 | Dr Jennifer Colley | Chemistry / Sciences |
| 2 | Mr Arnold Applehof | Languages / German |
| 3 | Mr David Isles | Maths / Design |
| 4 | Mrs Rebecca Jones | English |
| 5 | Ms Andrea Martin | Chemistry / Sciences |
| 6 | Mr Stewart Moore | Business / Economics |
| 7 | Miss Jane Muil | Languages / French |
| 8 | Mrs Yung Webster | Business / I&S |
Get Ready Campers
Year 7 and 10 students have an exciting opportunity and educational experience outside the classroom this term. Students need to remember to pack not just the equipment needed, but also to bring a 'can do' attitude to undertake new challenges, and have a willingness to meet new people. More details to follow in coming weeks.
Year 10 Camp – Week 3 Wednesday – Friday
Year 7 Camp – Week 5 Monday – Wednesday
Have a great 2021 Hollows students. Get involved, meet new people and do your best. Please direct any enquiries you may have regarding Hollows House via email mjcol3@eq.edu.au.
Michael Colquhoun, House Dean Hollows
From the House Dean of Jackson
Term 1 has already been packed full with activities - from Brain Breaks to icebreakers, it has been great to see the students so engaged in school life and already form positive relationships with staff and students.
We very much look forward to seeing their red House spirit come through, especially at our Summer Gala Day.
Jackson, named after Mary Jackson, was one of two new Houses to be created in Term 4 of 2020 to ensure that, as the school expands, students continue to receive a high level of personal pastoral care and support. Jackson House prides itself on being a community in which all voices are heard; the development and creation of the House and its values have been incredibly student driven, so there are many opportunities for students to become involved in the leadership and organisation of the House. We encourage students who are interested in teamwork, creativity and collaborative leadership, to become involved with the House committees which will be on offer later this term.
Jackson House Captains
Iain and Max have been busy organising House activities and events to bring our House together and we look forward to what they have in store for us this term. They have worked closely with our House Ambassadors in building House spirit and a sense of community.
Jackson House Ambassadors
| | |
| --- | --- |
| Inter - Instep Events | Maivy Nguyen and Livia Charly |
| Promotion and Communication | Shlok Dani and Harkanwar Bagga |
| Engagement | Madeleine Chew, Helen Wang and Yulia Eliseeva |
| Relationships | Don Ngo and Shelley Bao |
I would also like to take this opportunity to introduce our InStep mentors, some of whom are new to QASMT this year and have already become part of the Jackson furniture.
| | |
| --- | --- |
| INJ01 | Michael Parker |
| INJ02 | Saras Chetty |
| INJ03 | Victoria Carrington |
| INJ04 | Sara Hensley |
| INJ05 | Jeremy Isaac |
| INJ06 | Rebecca O'Neill |
| INJ07 | Mark Venz |
| INJ08 | Jamee Rose and Susan Goode |
Term One Key Dates
10 – 12 February: Year 10 Camp
22 – 24 February: Year 7 Camp
9 March: Year 7 Vaccinations
10 March: Year 12 Career Mentoring Breakfast
15 -19 March: Harmony Week
29 March: Summer Gala Day
We look forward to the exciting journeys which lay ahead for our students, from growing as individuals on camp, to celebrating diversity in Harmony Week.
Victoria Snell, House Dean Jackson
From the House Dean of Newton
"Success comes not from doing extraordinary things, but by doing ordinary things extraordinarily well." Jim Rohn
It was a delight to see QASMT come to life in the first week of school. As the new House Dean of Newton, I feel privileged to be leading a House with a rich tradition of teamwork, passion, and progress. I noticed the students have settled well in general, and have embraced the opportunity to welcome new students into friendship groups and reunite with old friends.
Since students have returned from a long break, I want to highlight the importance of routines at home and school. Establishing routines around homework, bedtime, technology use, and packing school bags the night before, develops productive habits. According to Queensland Health, building a routine will also help improve your physical and mental wellbeing. On the subject of wellbeing, the Positive Education Program (PEP) at QASMT, will be taught as an explicit curriculum by each House Dean with their House students in Years 7 -11. It brings together the science of Positive Psychology to encourage and support students to flourish.
My newsletter article's continuing theme is to remind families of the SMT protocols for Positive behaviour, including the attendance target of 97+%, school travel and the uniform expectation for both boys and girls. Please make yourself aware of all the requirements. The student diary is a great resource.
Teamwork makes the dream work. Our student leaders are enthusiastic, encouraging and eager to ensure the spirit and culture of Newton House grow from strength to strength, and it is a pleasure for me to introduce them:
Newton House Captains
Newton House Ambassadors
Our hardworking and active InStep mentors keep our students in step with all aspects of Academy life and encourage active participation in events and activities. I also want to extend a warm welcome to our new InStep mentor, Ms Costa, who joined our school at the start of this year. Term 1 is a busy term, with the Year 10 and 7 camps in Weeks 3 and 5 respectively, Harmony Week celebrations in Week 8 and on the sporting side, we have the Cross Country and War Cry in Week 7 - so there is loads of House points up for grabs.
I wish all my fellow Newton members to have an apple a day and be fruitful all year. Please do not hesitate to contact me if you have any concerns or questions via email dpdev0@eq.edu.au.
A quote from Jim Rohn - "Success comes not from doing extraordinary things, but by doing ordinary things extraordinarily well". By doing the little things to the best of our abilities, we can exceed our expectations and achieve success.
GO NEWTON!
Deva Prasad, House Dean Newton
From the Guidance Officers
Looking after your Wellbeing in 2021
Greetings! What a wonderful time of year with fresh starts, and the opportunity to dream with a new year stretched before us. There are many things happening in the Student Services team this term, to support our students and families in wellbeing, mental health, learning support and pathways planning. Along with our growing school, our Student Services team has also grown. We are thrilled to welcome Mrs Chantel Mageros who is our second fulltime Guidance Officer on staff this year. Chantel will be supporting Franklin, Hawking, Newton and Jackson Houses, in addition to a portfolio working with Unique Learners (including giftedness, disabilities, and other additional needs). Katrina will continue to focus on Career Guidance while supporting Agnesi, Da Vinci, Curie and Hollows Houses.
Career Breakfast
One of our major events for this term is our career breakfast, scheduled for 7.30-9.30am on Wednesday 10 March. Each year we hold the SMT Careers Breakfast for Year 12 students, where academics and professionals from a range of fields come to the Academy to discuss their career experiences with the students. Students will be divided into groups and will have the opportunity to ask mentors questions about career experiences and pathways. Each group will have about 20 minutes before rotating, so that students are talking to a variety of professionals.
I am still seeking volunteers and would appreciate hearing from you or anyone you know who might be interested in helping us. All fields are of interest but may include:
Dentistry
Design (artist, architect, creative director, industrial designer, etc)
Engineering
Hospitality (hotel management, event management, chef, etc)
Actuary/Mathematician
Political Science (Political analyst, diplomat, politician)
Medicine
Allied health fields.
If you, or someone you know, would be willing to support our students by joining us as a mentor at our breakfast, please contact our Guidance Officer, Katrina Judge via email kjudg12@eq.edu.au - include a sentence or two about your role. This will assist us to ensure that we have mentors from a cross-section of suitable workplaces and careers, and will provide students with information as they sign up for their group rotations.
SET Planning: Our Year 10 students will also have a career focus this term, as we spend five weeks exploring the many aspects of career decision making. This will culminate with each student completing their Senior Education & Training (SET) plan to help guide them through the senior phase of high school and prepare for tertiary studies.
Options Bulletin: Once again, we have subscribed to Options Career Bulletin to provide a wealth of regular updates on career topics such as universities, scholarships, study skills and career fields. Please take the time to peruse the bulletin and note any dates or topics of interest.
Contact: We are available at school Monday to Friday, 8.00am-4.00pm for appointments, or can be contacted by email if we can answer any questions to support you. Please continue to contact your House Dean as your first point of contact for any wellbeing issues, and they will refer to the Guidance Officers if appropriate.
Katrina Judge, Guidance Officer (Career Planning)
kjudg12@eq.edu.au

Chantel Mageros, Guidance Officer (Unique Learnings)
cmcad10@eq.edu.au
From Instrumental Music
"Life seems to go on without effort when I am filled with music." George Eliot
We are in for a wonderful year of music making at QASMT with additional ensembles added to accommodate the huge growth in enrolments. New ensembles include; Bravura Strings, a rock band and a combined orchestra – the SMT Philharmonic! We warmly welcome two new teachers – Mrs Rebekkah Baumgartner (Classroom Music and Instrumental Music) and Ms Tania Savage (Percussion) who will provide lessons and conduct ensembles. Our Chamber Music program is continuing again this year with opportunities for both junior and senior students to collaborate in smaller groups.
Key Dates for your calendar include:
Workshop Day - Saturday 20 March
Evening Concert - 21 May
Arts Show Case - 11 June
Evening Concert - 3 September.
I would like to take this opportunity to acknowledge and thank the parent support group who have supported the growth of our program in the past few years. Thanks to your efforts and time, we have been able to enlarge our inventory and equip the program with more items to offer students a wider range of repertoire and opportunities.
We are looking forward to a memorable year of Instrumental and Choral Music at QASMT!
Gregory Thompson, Instrumental Music Coordinator
gdtho0@@eq.edu.au

From Corporate Services
We would like to welcome back all parents and students for the 2021 year.
A number of works were completed over the holidays, including the refurbishment of the Refectory, to now include a Senior Cafeteria and a Tuckshop. This will provide a more efficient transit through the tuckshop area. We would also like to report that our Flexischool orders are increasing daily, and we would encourage parents and students to utilise the Flexischool system for their ordering (Log in or register a new account for Flexischools).
During the Christmas break, our new House locker areas were also completed for Hollows and Jackson.
We are pleased that our new staff Wellbeing Centre is being used so frequently by returning and new staff.
The Corporate Services Team values feedback about our facilities, so if your child has anything to report or advise, please email facilitiesrequest@qasmt.eq.edu.au.
Corporate Services Team - Sharon Prentice, Kelli Gallagher, Sarah Carsten
From the School Marketing Team
The School Marketing Team is looking forward to a great year ahead!
The first campus tour for the year took place yesterday, led by our Middle and Senior Years Directors, Sandra Davey and Rebecca Skarshewski. Marketing has been assisting new families with their QParents account, and coordinating the school photo days. Please note that Tuesday 9 February is 'catch up photo day', for any student whose ID photo was not taken on 29 January, along with many student leadership group photos (listed below). Our attentions will soon turn to the communications surrounging upcoming major events, along with beginning the production of several school publications, such as the 'Nobel', a compilation of academic works by QASMT students.
Tuesday 9 February is CATCH UP PHOTO DAY
LEADERSHIP GROUP PHOTOS
Principal and ARC (ARC=Academy Captains & House Captains)

All House Captains together

Franklin Captains and Ambassadors

All Student Leadership Captains

Student Leadership Captains and Ambassadors: Science, Mathematics, Technology, The Arts, Debating, Robotics, Sports, Production, Journalism, Sustainable Futures, International Mindedness, Service.
Team member, Alice England, presented to the Year 9 Business Management classes this week (left), addressing the topic of merchandise and branding "…it is a way for us to communicate some of our values, such as sustainability, with stakeholders, including those we haven't met yet; and branded merchandise creates a point of discussion".
Have a great term everyone. The School Marketing Team can be contacted via email communications@qasmt.eq.edu.au.
School Marketing Team - Kirsten Smallcombe, Alice England, Grace Cabot

The School Marketing Team regularly posts to our social media networks. Keep up-to-date with all the happenings and achievements at QASMT by following:
From the P&C
The Parents and Citizens Association (P&C) aims to help enrich every student's experience by supporting Queensland Academy for Science Mathematics and Technology (QASMT) events, activities and projects. The P&C provides a platform for parents to contribute to the success of QASMT with as much or as little time as you can spare to volunteer.
MESSAGE FROM THE P&C



Welcome to the new academic year!
With more than 400 P&C members at QASMT, our goal for this year is to grow the membership to 500. This will enable us to better support the school's strategic priorities going forward.
Our AGM will be held on Monday 15 February 2021, and we are asking P&C members to come forward for the roles of President / Vice-President / Treasurer / Secretary for 2021. Please email your interest to the P&C Secretary via qasmtpandc@gmail.com.
Below is a brief description of our key activities for the year:
1) Fundraising: We have had two excellent years of fundraising and raised close to $200,000 through the Opportunity Fund, Grants and other initiatives. Most recently, parents made $3723 in tax-deductible donations towards school sports equipment via the Australian Sports Foundation. Thank you for your generosity!

2) Re-starting our Support and Working Groups in Music, Robotics, Debating, Events, Transport and STEM Research and Enrichment. It would be fantastic if you are able to volunteer to support any of these groups. Get in touch with us via qasmtpandc@gmail.com.

3) Launching soon is a QASMT P&C Building Fund to support construction of new sports and wellbeing facilities on the school oval. Principal Kayrooz will discuss plans for this building at an upcoming P&C meeting.
All parents are cordially invited to upcoming P&C events:
AGM and February Meeting: Monday 15 February 6.00-7.30pm (Admin Block and via Zoom
Year 10 Parent Gathering: Friday 12 February 2.00-3.00pm (Time TBC). Get to know some of the other Year 10 parents whilst waiting for the students to come back from camp. RSVP via P&C Facebook invite or via qasmtpandc@gmail.com.
Sunday Social:

Sunday 28

February for parents to get to know each other at the Hundred Acre Bar, St Lucia Golf Links. RSVP via P&C Facebook invite or via qasmtpandc@gmail.com

.

Year 7 Parent Gathering

: Wednesday 24

February 2.00-3.00pm (Time TBC).

Get to know some of the other Year 7 parents whilst waiting for the students to come back from camp. RSVP via P&C Facebook invite or via qasmtpandc@gmail.com.
March Meeting:

Monday 15

March 6.00-7.30pm (Admin Block and via Zoom)
Thank you for your continued engagement and support for our wonderful school and we hope to see you at one of our upcoming P&C meetings!
Winand D'Souza, QASMT P&C Vice President
CLICK ON THE LINKS BELOW TO LEARN MORE ABOUT THE P&C:
Facebook - closed group for parents, peer support/discussion, news, event details, resources and photos
PandC Association - P&C web page introduction, member details and contacts.